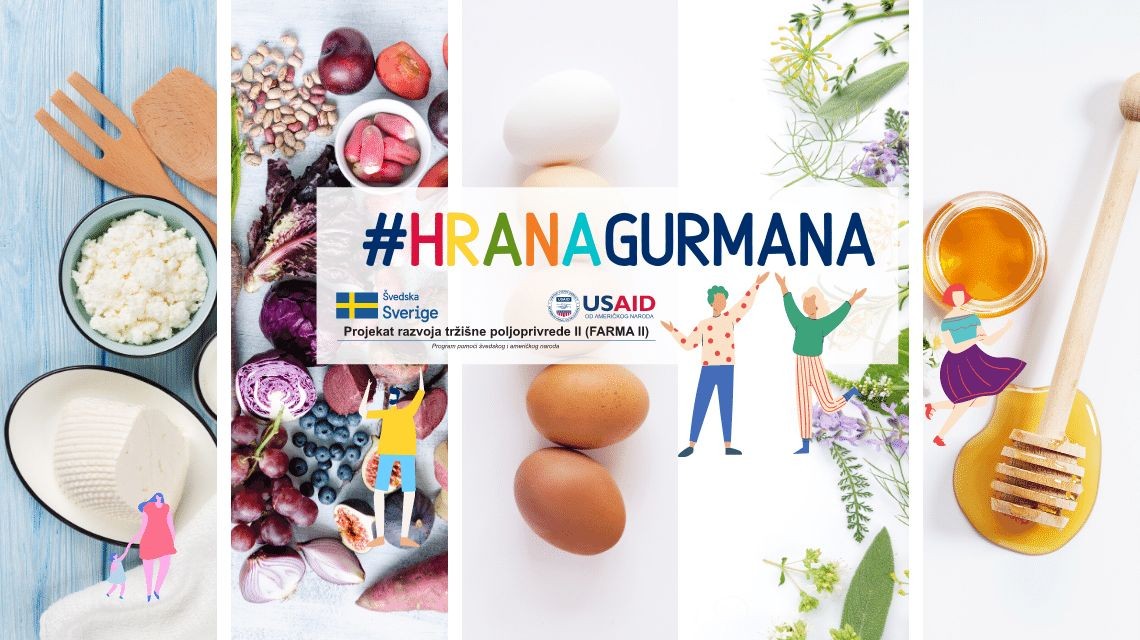 Gourmet Food campaign to promote high-quality food and agricultural products from Bosnia and Herzegovina
The public information campaign dubbed HRANA GURMANA or Gourmet Food was launched in July 2020 by the Sweden/USAID FARMA II project  to promote high-quality food products from across BiH, while natural cosmetics will be promoted under a related slogan.
The campaign promotes 120 small businesses, including 100 agricultural producers, ten specialized retail shops, and ten restaurants that use BiH products in their cuisine. It helps small businesses in BiH to cope with the consequences of the COVID-19 pandemic and to expand their customer base.
To make it easy to find different gourmet products throughout Bosnia and Herzegovina, the Hrana Gurmana campaign created an online map that now features more than 100 producers, and 34 restaurants and shops that offer their delicacies. The map is being updated daily to include more small businesses and has been visited by more than 3,000 people in less than a month.
Supplementing the map, the Sweden/USAID FARMA II project also created a Business Catalogue on its website which provides information about small producers, their products, and product availability, and enables the site visitors to connect with them. It also provides information about the shops and restaurants involved in the campaign.
With the HRANA GURMANA campaign, FARMA II wants to draw the attention of consumers in Bosnia and Herzegovina to some of the best domestic producers and their products. The goal is to connect the fans of tasty and healthy food with the best products that Bosnia and Herzegovina has to offer, and shops and restaurants that offer them.
The campaign can also be followed on social media channels listed below:
Facebook: https://www.facebook.com/HranaGurmana/
Instagram: https://www.instagram.com/hranagurmana/
Twitter:

https://twitter.com/HranaGurmana